Isao Tomita - Snowflakes Are Dancing (1974)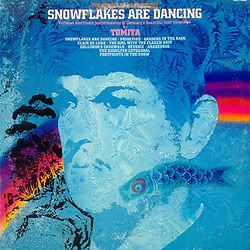 Riding the wave that originated with Walter/Wanda Carlos' "Switched On Bach" (a masterpiece of applying synthesizers to classical music) came Isao Tomita. The Japanese producer used a staggering array of state-of-the-art (at the time) synthesizers, including the same Moog that Carlos used on "Switched On Bach".

Tomita's subject for his synthesizer translation was Debussy, and I can't think of a better composer to be given this treatment. As one of masters at orchestration and timbre, I'm fully convinced that if Debussy was born today, he would be all over synthesizers.
Tomita's interpretations are fairly loose with their subject material in a fantastically creative way. Lush, rich soundscapes are created with his analog stallions, all retaining the evocative beauty that is inherent to Debussy's wonderfulness.