DJ Frane - Journey to the Planet of the Birds [2008]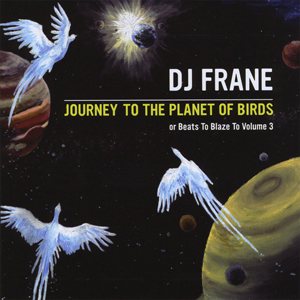 Hey y'all, it's been a while.
Working hard as fuck on this thesis. Almost done. Phew.

Anyways, dantelope's most recent post inspired me to get this classic up here.
DJ Frane's a mysterious stoned (mysteriously stoned?) figure who makes some of the best beats this side of DJ Shadow. Rich with detail and sample heavy, this album has a narrative arc to it that'll keep it spinning on your record player (figurtively, since you we don't have mediafire links for 3D printer designs of vinyl--can someone do that, please?) until the end.

If you love this (and I imagine y'all'll love this), check out his other two albums, which are each at least as good.

And then, keep your collective fingers crossed for a fourth.
[not my link, holla back if there's problems]

Also, someone wanna point me towards some choice writing music? I've been on a minimal-tech/90s drum 'n' bass/50s exotica lounge kick lately (not all at once, unfortunitely), and need something new. Lay your opinionated wisdom on me, dear listeners.